Why should I convert my Langstroth-based Apiary to an AŽ Hive system?
While the advantages of an AŽ Hive are numerous, the best reason is that it affords the beekeeper maximum flexibility!
Beekeepers are at the mercy of the weather for conducting hive inspections and feedings, among other activities. Rainy days or extremely humid days are exhausting, and those are the days when stings occur most frequently.
AŽ Hives minimize, or even eliminate those variables from your hive management. Imagine being able to easily and safely inspect your frames in the middle of a pouring rainstorm, or on the coldest day of the year. Additionally, hives in an AŽ system receive an additional level of protection from weather, vandalism, animal encounters and theft.
Are AŽ Hives permanent installations, or designed to be transported?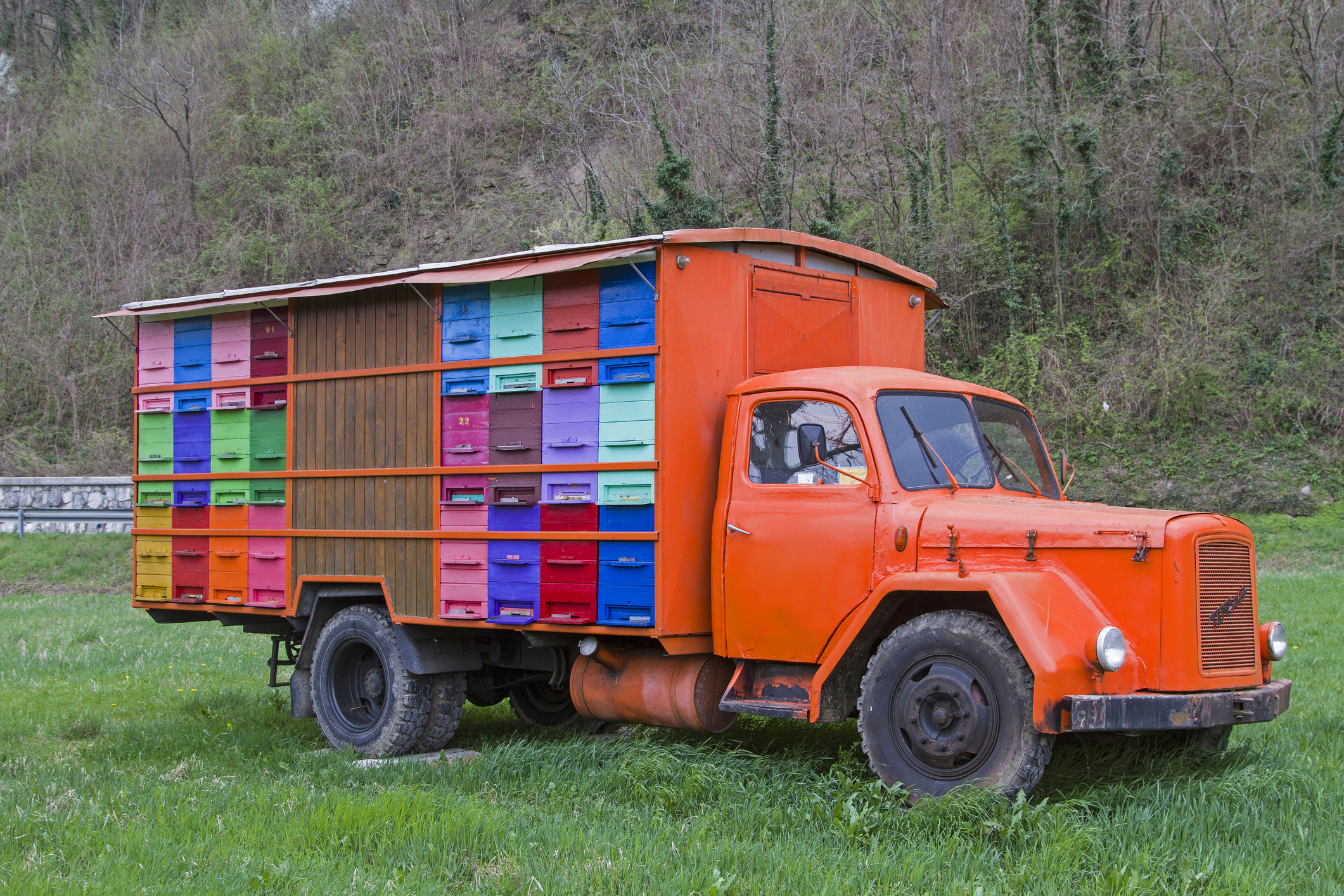 An AŽ Hive system allows for a permanent and protective structure, as well as an easily-transportable and protective system. The specifics of your AŽ system are fully customizable, and totally unique to the needs of your apiary.
Are AŽ Hive systems more expensive than other options?
There are additional upfront costs but over time, the AŽ system will save you money. Despite the additional up-front costs of an AŽ Hive system, the hives are built to last. With proper weather protection and regular painting of the hive front, an AŽ Hive can easily last 20 years. This easily beats the 3-5 years recommended lifespan of a Langstroth hive, saving you money over time.
AŽ Hives are not designed to be stand-alone hives, like Langstroth or Kenyan Hives. They are designed to be placed into a structure, which provides an additional layer of protection and insulation from the elements, vandalism and theft. The exact design, as well as the associated costs, are up to you.
Why is an accessory structure for my AŽ hives necessary for overwintering success?
The Slovenian AŽ system is a unique concept, designed to maximize protection for the hive, and provide comfort for the beekeeper while working with the hives. The hives are built from kiln-dried Spruce wood. The hives are designed to fit inside of a secondary structure, to protect the wood and maximize survivability of the bees. In 2019, it is estimated that 43% of hives in the United States did not successfully overwinter. The Slovenian Beekeeping Association (CZS) estimates that the 2018-2019, overwintering losses in Slovenia were between 12-15%.
Are AŽ Hives more accessible for those with limited mobility and strength?
AŽ Hives are a superior system for beekeepers of all ages, strength levels and capabilities. Often in the U.S., beekeeping is a hobby taken up in retirement. However, as we age, we continually lose upper body strength. Many beekeepers find that they are unable to continue their passion for bees, as they cannot easily lift and stack heavy Langstroth boxes. The simple, flexible AŽ system removes barriers to beekeeping, as there is no lifting required, apart from sliding single frames out horizontally. The AŽ door opens much like a kitchen cabinet, with no lifting required to access frames. The AŽ system is the perfect solution for those with back problems, physical limitations, or mobility issues. You can fully design your apiary to the height and characteristics that will work best for you. The only limitation is your own vision for your apiary.
Watch this video about how individuals with limited mobility can successfully manage their own hives!
Why Does AŽ Hives North America stock primarily 3-level hives?
The Slovenian AŽ Hive is a unique scientific and technical development of Slovenia, developed by noted beekeeper Anton Žnideršič, which has been in use for over 100 years. The 2-level AŽ Hive is the most common configuration used in Slovenian Bee Houses. This configuration works well for Slovenian beekeepers, as it accommodates the natural, level pollen flows typical of the Julian Alps regional climate. In contrast, with the varied climates of the United States, many areas experience a heavy Spring pollen load, which, if not properly managed with good apiary supervision, can lead to swarming. The three-level AŽ Hive is designed to accommodate a larger number of frames, thus providing more space for the bees during heavy pollen flows. This additional space greatly reduces the likelihood of swarming, and is a superior setup for busy beekeepers, or those involved in commercial operations.
While we are happy to provide 2-level AŽ Hives from our Slovenian manufacturer upon request, we highly recommend use of the 3-level AŽ Hive, or a combination of 2-level and 3-level hives in your apiary.
Why should I buy from AŽ Hives North America?
You have options in the marketplace and we recognize that.
The benefit to our customers starts with our unique experience.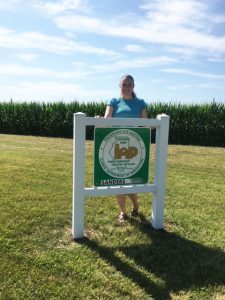 Our owner, Jay Sanders, is an American of Slovene ethnicity. Jay has deep roots in Gorenjska, Slovenia's northern mountain region, where her family has lived since the 9th century. These cultural ties provide our buyers with an insider's view on Slovenia's beekeeping industry, the linguistic and cultural ties to negotiate the "Slovenian" price, as well as the ability to truly discern the best hives for our business.
At AŽ Hive North America, we have done the difficult work for you. We have walked the fields to see installed hives, traveled to far-flung production facilities in small towns and big cities, and seen and felt the hives we sell with our own hands. We carefully selected our hive manufacturer, after discerning the beauty and craftsmanship of their products. In essence, we rejected the hives the others are selling, in order to bring the absolute best product on the market to you.
Our hives are manufactured in Slovenia by Slovenia's best craftsmen. Our exclusive relationship with our manufacturer ensures you receive the best quality, traditionally built hives on the market. The quality of our hives and frames is apparent the moment you pick them up, and are designed for durability and longevity. Our offer includes a complete hive with accessories, so that you do not need to purchase additional equipment.
Should you be unhappy with your purchase, we will issue a full refund.
Our goal is for you to be overjoyed with your purchase, and our customer support following your purchase extends for the life of your product.