AZ Hives North America founder Jay Sanders is a U.S. military spouse raised in Colorado.  She and her family have spent the last 20 years all over the world, and now reside in Northern Virginia.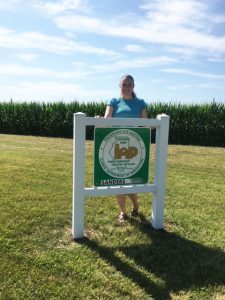 As a child, Jay had a fascination with bees. The Sanders family maintain a Centennial Family Farm in Illinois, where they have been farming since 1872.  Growing up, discussions of crop prices, soybean harvests, and other agricultural topics were part of the average dinnertime conversation for Jay and her family.  Working with bees is a natural extension of her family's agricultural heritage.
As a young adult, Jay studied International Affairs at University.  In 1999, she visited her family's ethnic homeland of Slovenia for the first time to attend a language program.  While studying at the University of Slovenija, she often stayed with her family in their village in the Slovenian region of Gorenjska.  It was at this time that she first became acquainted with the Slovenian AŽ Hive, and thought about taking up beekeeping, as her great grandparents and extended family in Slovenia have done on their ancestral farm for generations. 
As someone who lives with Scoliosis, using the traditional Langstroth Hive for beekeeping was a challenge for Jay.  After a brief sojourn using a Horizontal Langstroth Hive, she transitioned to the Slovenian AŽ Hive system due to its ease of management, protection of bees from the elements, comfort and flexibility for the beekeeper.  
Come have a look at our AŽ Hive products and the Slovenian system of beekeeping. You will soon see why, whatever your age, your physical ability level or the number of hives you manage, the Slovenian AŽ Hive is a superior system of beekeeping.